THE GREAT FLUORIDATION DEBATE


with world renowned authority, Professor Paul Connett.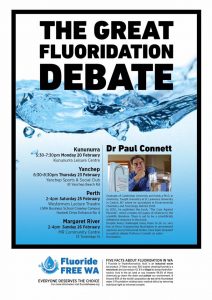 What is it about fluoride anyway? Is it safe and effective or is it toxic and should be avoided?
Come and hear from #1 international expert Professor Paul Connett, as he explains it all!
A not-to-be-missed event for all health conscious, parents, teachers and health care professionals.
ENTRY BY GOLD COIN DONATION!
Tour Dates:
Kununurra – Monday 20th February 2017
Yanchep – Thursday 23rd February 2017
Perth – Saturday 25th February 2017
Margaret River – Sunday 26th February 2017

Who is Paul Connett?
Dr. Paul Connett is a graduate of Cambridge University and holds a Ph.D. in chemistry from Dartmouth College. Since 1983 he taught chemistry at St. Lawrence University in Canton, NY where he specialized in Environmental Chemistry and Toxicology. Over the past 30 years his research on water fluoridation and waste management has taken him to 49 states in the US, 7 provinces in Canada and 62 other countries, where he has given over 2500 pro bono public presentations.

To subscribe to our calendar simply click on the +GoogleCalendar button!